Eric Williams's childhood had a Motown soundtrack. His parents played music constantly in the house, and he remembers how it drew him in.
"I wanted to know what – and who – was behind the music. And I wanted to know what instruments were creating the sound," he said.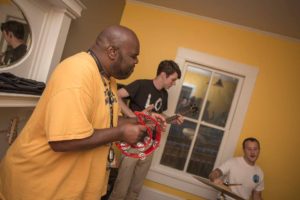 His parents didn't push him to learn music; the music itself did. Now the general manager for the Cornelius School of Rock, Williams facilitates daily the sort of invitation to music that he experienced as a child.
"The songs draw us to the instruments," he said, "not the other way around."
At School of Rock, multi-instrumental music instructors teach students of all ages to play and perform songs that interest them. This music-first approach differs from more traditional instruction, in which students learn first through drills and practice exercises and gradually build up to songs.
"We want to open as many doors as we can musically," Williams said, and providing differentiated instruction is one way they do that.
Williams and his team believe in the value of solo performance and one-on-one instruction as well as a team-based approach to music, which is why they encourage students to play together as a band. In doing so, students learn important life skills like confidence and collaboration – and have fun doing it – Williams said.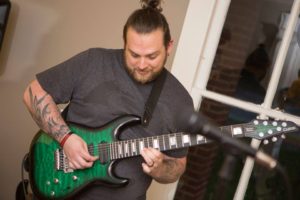 Live performance is another defining component of the School of Rock experience. Far from a living room piano recital, School of Rock students show off their skills live on stage, in music venues around the region. Just this May, students performed at the Fillmore in Charlotte, and July 26 the house band will take the stage at the Visualite.
"I don't think students understand the magnitude of the experience until they hear themselves over a 5,000-watt PA system," Williams said.
The school offers classes for children as young as two, in which they introduce movement and rhythm, and students ages 5 and up can take lessons in drums, keyboard, guitar, bass guitar and vocals. Instructors adapt their teaching to the musical tastes and goals for each student.
"We understand every child is different. We don't just hand the same book to every kid that walks in the door. We make sure you're doing something that keeps you motivated."
School of Rock is now approaching its one-year anniversary in its Cornelius location, 2112 Catawba Ave., a 100-plus-year-old house next to the elementary school in Old Town Cornelius (OTC), and sees about 80 students per week. Most of them are 18 years and younger, though there is a 6-member adult band, and applications continue to come in steadily, Williams said. This is the second area location for the school franchise; the first is in Charlotte. Each is independently owned.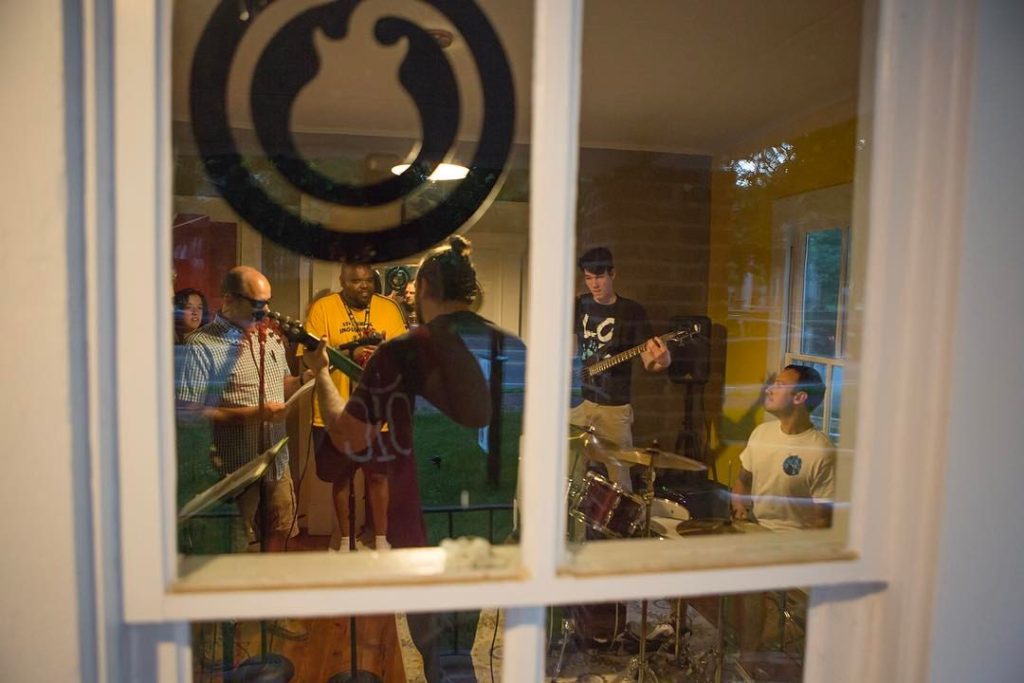 The vibe of the historic house, coupled with the "Old Town" community and its interest in the arts are what led Williams and his team to choose Cornelius. (Photo Credit: Brant Waldeck from My Creative Team)
"I was completely blown away by how everyone attends local events like the 'Tawba Walk," he said. "I knew instantly that this community was something I wanted to be a part of."
He also liked the fact that organizations like Bella Love, the arts event planning and promotion group behind events like the 'Tawba Walk Arts and Music Festival, 2nd Friday Street Festivals and the annual Jazz festival, are working to make OTC a thriving arts and cultural hub for the region.
"I believe in what we do here at School of Rock and I believe in what Case Warnemunde, Bella Love founder is doing with Bella Love and the OTC brand," Williams said.
Though still relatively new to the area, Williams and his team at School of Rock have quickly become a part of OTC and are drawing creative, artistic people to the area, furthering the goals of both the school and the community.
"There's always something going on here [in OTC] and people genuinely want to be here," Williams said. "I couldn't imagine being anywhere else."
More info
School of Rock is offering multiple camps this summer, featuring the music of the Beatles, modern rock, soundtracks, Foo Fighters, 90's music, and even a songwriter/music video camp. School of Rock is offering an open rehearsal 5:30 pm- 7:00 pm and an OPEN JAM 7:00 pm – 9:00 pm for the July 14 edition of 2nd Friday. Learn more, or sign up here.

About the contributor:

Christina is a local multimedia content producer and digital strategist. Formerly the editor of CorneliusNews.net, she is thrilled to work with the OTC team to once again help tell the ever-evolving Cornelius story. She lives nearby with her husband, Nate, and a small menagerie of 2- and 4-legged beasties.