We all have a favorite. From the Mark Twain statue to the Jitterbug by Rite Aid to the murals in Oak Street Mill, the public art works around Old Town Cornelius are diverse, unique, engaging, powerfully relevant. But of all the descriptors that apply, the most important is "public."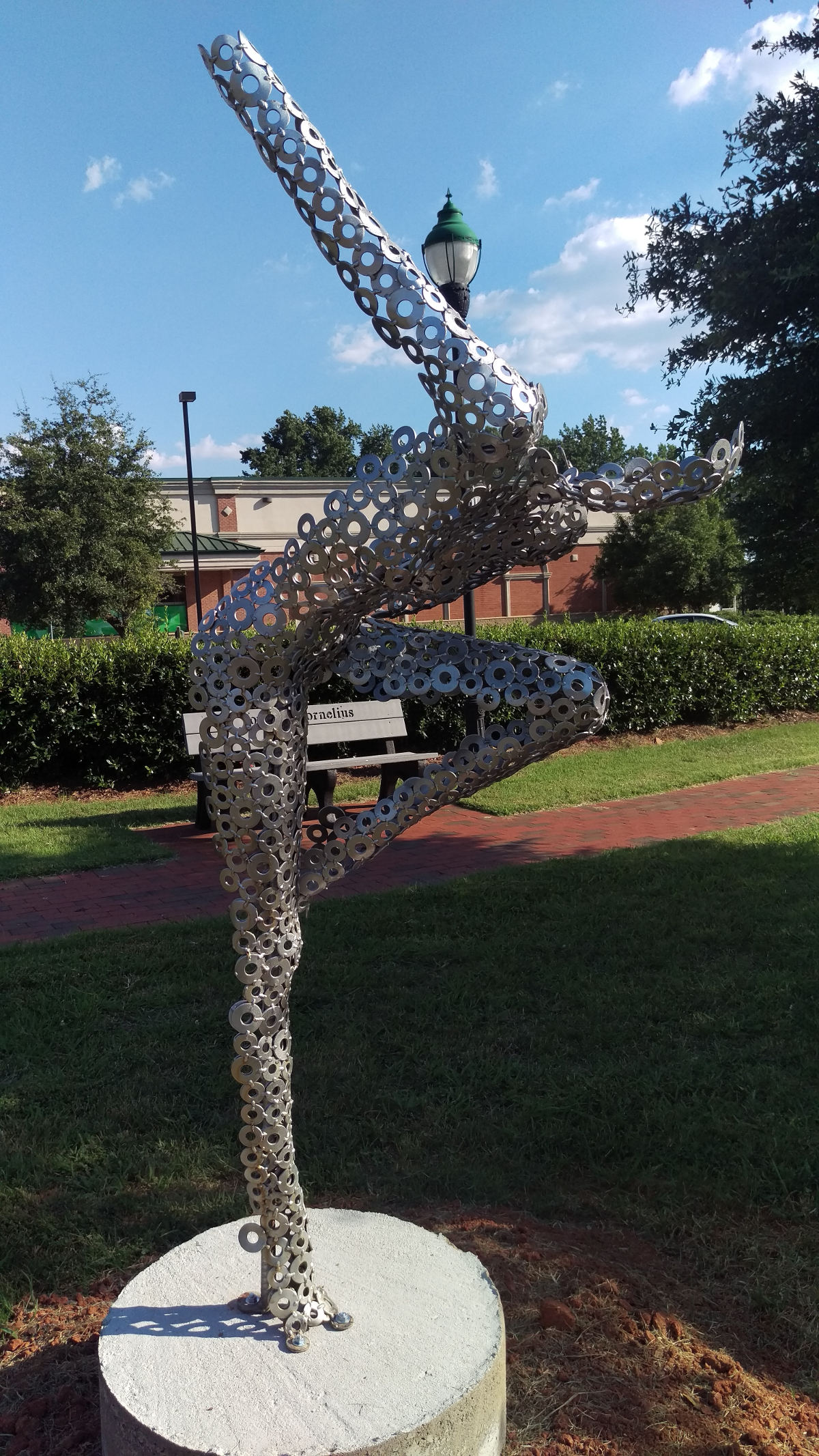 By remaining accessible to everyone, free of charge and woven into their existing environments, these works are more than fun geographical blips; they are signs that of a strong and vibrant cultural life for our city.
Upholding the cultural richness and art integration that makes Cornelius so unique is more than a grassroots effort by a few deeply committed residents operating under the OTC name–it's also a priority supported by the town government, in recognition of the important role the arts play in the cultural life of a city.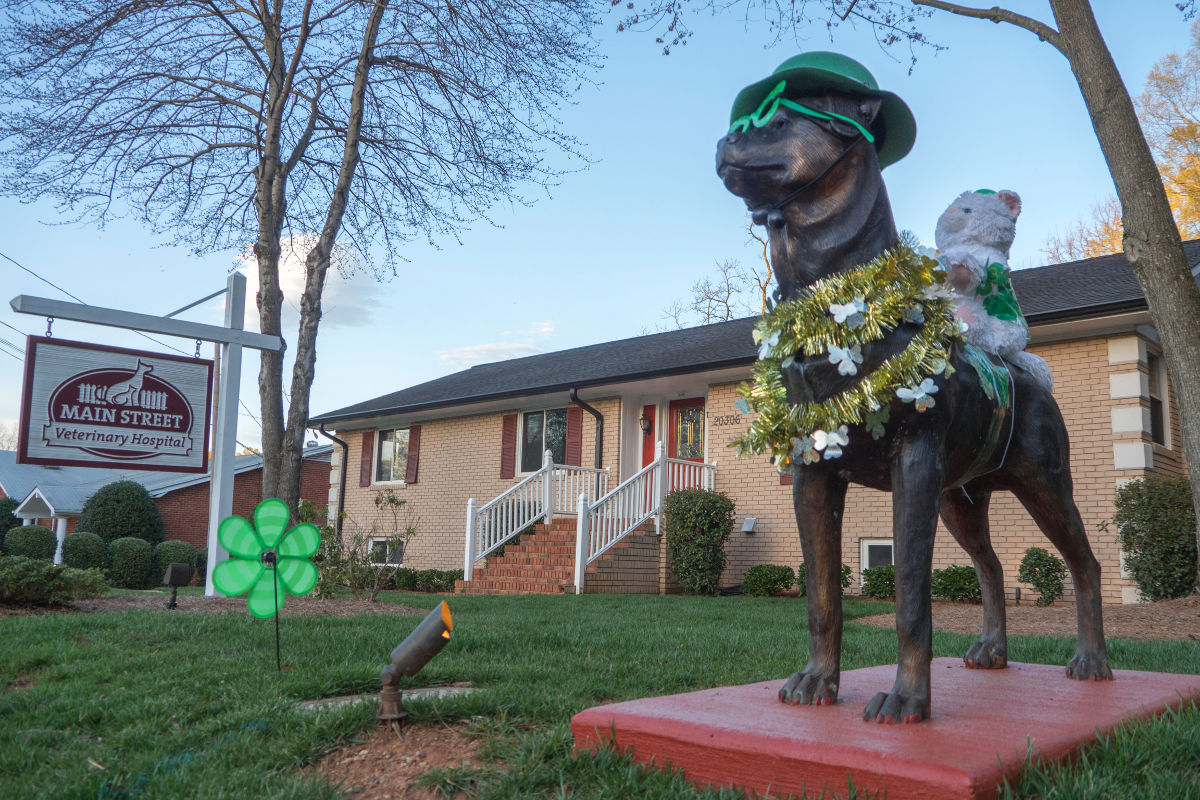 In 2014, the town established a Public Art Committee to provide public art guidance and recommendations to the Cornelius PARC Department and Town Board. By increasing the number of public art works around town, the committee aims to "enliven public space, promote community identity and sense of place, and contribute to a vibrant and engaging town," as stated in the committee's policy documentation.
And the result?
Whether walking, driving or biking through Old Town, you're guaranteed to have a close encounter of the cultural kind.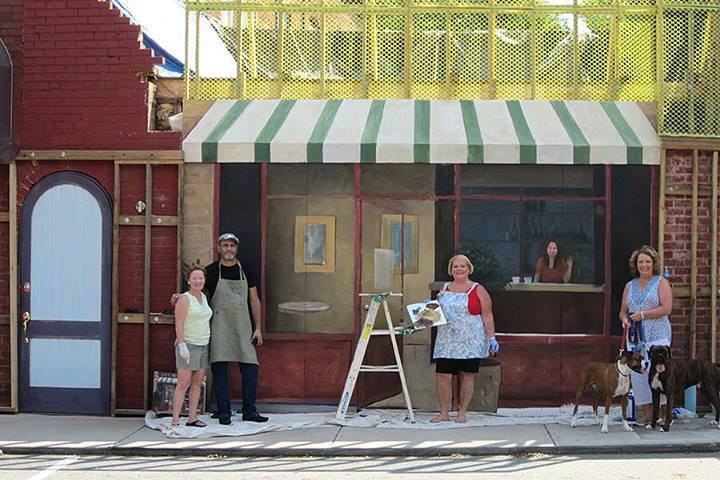 Here are some must-see pieces:
¨ Mark Twain, bronze, by Jon Hair – Cornelius Public Library, 21105 Catawba Avenue
¨ Our Pieces of Earth, mixed media collage, by Monique Luck – Cornelius Community Garden, 20708 Catawba Avenue
¨ Shared Findings, painted steel, by Edwin White – Cornelius Community Garden, 20708 Catawba Avenue
¨ Slight Twist, painted steel, by Edwin White – Bailey Road Park Arboretum, 11536 Bailey Road
¨ Jitterbug, steel, by Rich Nossel – In front of Rite Aid, Corner of Catawba Avenue and HWY 115
¨ Morning Glory Whisper Bench, steel, by Jim Gallucci – Robbins Park, 17738 West Catawba Avenue
¨ Geyser, aluminum and stainless steel, by Harry McDaniel – Oak Street Mill, 19725 Oak Street
¨ Murals, by Sharon Dowell, Susan Nuttall and Meredith Connelly – Cornelius Arts Center exterior wall, 19725 Oak Street
¨ Bicycle racks, steel, by Jon Carter – Smithville Park, 19710 South Ferry Street, Cornelius Town Center, 20125 North Main Street
Document your close encounter and share it – Post a selfie with your favorite and tag it with #OTCPublicArt and #WhereinOTC… You may end up on our website. During the month of March 2018, if you tag @oldtowncornelius on social media with the above hashtags, you will be entered to win Old Town swag! So, what are you waiting for…? Get out there and create your own #OldTownAdventures !

——————————————————————————————————–
Since this article was first published, more works of art have been added to the #OTC landscape:
¨ Humpty Dumpty, etched and cast aluminum, by Eric Isbanioly – Cornelius Elementary School, 21126 Catawba Ave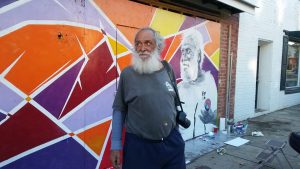 ¨ Jack, mural on plywood, by Rico Nye, Justin Christenbery and Brant Waldeck – Cornelius Historic Commercial District, 21312 Catawba Ave
Learn more about "Jack" here
¨ Never Forget | 9- 11, World Trade Center steel and other materials, by RE:site- Cornelius Fire Station, 19729 South Main Street*
*awarded the 2017 Arts & Humanities Award by North Carolina Recreation and Park Association (NCRPA).