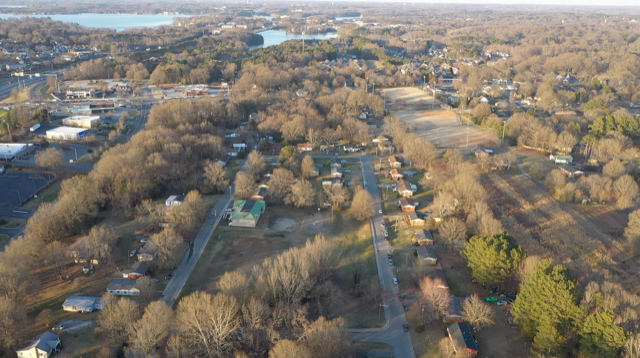 Somewhere, under a tree, hiding out in plain sight is a little-big area of town known as Smithville. Nestled at the cross roads of I-77 and Highway 21, entryway to the east side and Old Town Cornelius, in the rapidly growing area of Lake Norman, you will discover this community rich in heritage and heart. This community which is arguably one of our most important historic gems is also on the cusp of one of the most exciting redevelopment plans of the era.

What's remarkable is, when these redevelopment plans are implemented, Smithville will define itself and make history- again. It will define itself as a successful example of restoring and preserving old homes while celebrating that heritage. Smithville will lead the charge on securing affordable and work-force housing for generations to come. Parts will be transformed, parts will remain in place. The term revitalization comes to the forefront.

With anticipation to gain support from the Town, the county and the greater community- and all led by the members of the Smithville Community Coalition, in partnership with Neighboring Concepts, official redevelopment plans will be presented by SCC Board Member and development consultant Willie Jones to the public next month.
---
Reflections on the Past
To understand what is in store for the future, we must take a moment here in the present – to look at and learn about the past.
This is about so much more than a few pieces of vacant land, this is about the roots of settlement in our area– long before lakes and highways, in a time when self-sustaining communities were made by the people who lived there, not by developers in an office miles away.
When the phrase, "it takes a village to raise a child," truly meant that.
I invite you to dive in– this synopsis is only a portion of the story, the summary of a neighborhood over 120 years old, which has homes and settlements existing well before the Town's incorporation in 1905 and which wasn't annexed into the Town until 1980.
This is the story of thriving through adversity. I had the opportunity to research, interview and compile accounts of what life was like in Smithville. I had the privilege to work with and hear from some of the life-long residents to produce a "History of Smithville Tour." Seeing the treasured memories through their eyes, hearing the priceless accounts firsthand, I gained a deeper understanding, appreciation and a compelling desire to join the fight to save our Smithville.
Please enjoy this video documentary:
---
Related links and uncut full interviews:

Full Length Smithville History Tour here

Zoom Interview: Willie Jones talks about the Redevelopment Plan in depth prior to his presentation to Town Board March 1
Zoom Interview: Mayor Washam reflects on the past and the plans for the future

Zoom session 1: Vanessa Ramseur, Sammie Knox, Corliss Stinson
Zoom session 2: Gerald "Mickey" Potts, James Potts, Vertie Torrence
Zoom session 3: Armetta Cathcart, Delours Williams
---
Finding Home: The Fight To Save Smithville
written by Pam Kelley WFAE

Flashback Friday: The Barbers of Brick Row
written by Jack Conard Jr and Jess
February Art Exhibits: Live Performances: Celebrate Black History Month in OTC