The free event will feature an evening of music, arts, and more
Cain Center for the Arts, in partnership with Bella Love and Old Town Cornelius (OTC), announces its inaugural Cornelius Arts District Soirée, a free event to be held at Brick Row (19725 Oak St., Ste. 9, Cornelius) on Feb. 21, from 6 to 9 p.m.
The event will feature entertainment by Rusty Knox and The HC Oakes Duo, food and drink (beverages are sponsored by D9 Brewery and Olde Mecklenburg Brewery), and Cain Center for the Arts giveaways. Local photographer Deborah Young's photography will also be on display at Brick Row during the event. Justin Christnbery's work, "Vinylism on Sound" will also be on exhibit.
Donations received during this event will benefit arts education programs from Cain Center for the Arts.
Interview requests can be sent to Anita Overcash at [email protected]. For more information on the Cain Center for the Arts project, visit www.cainarts.org.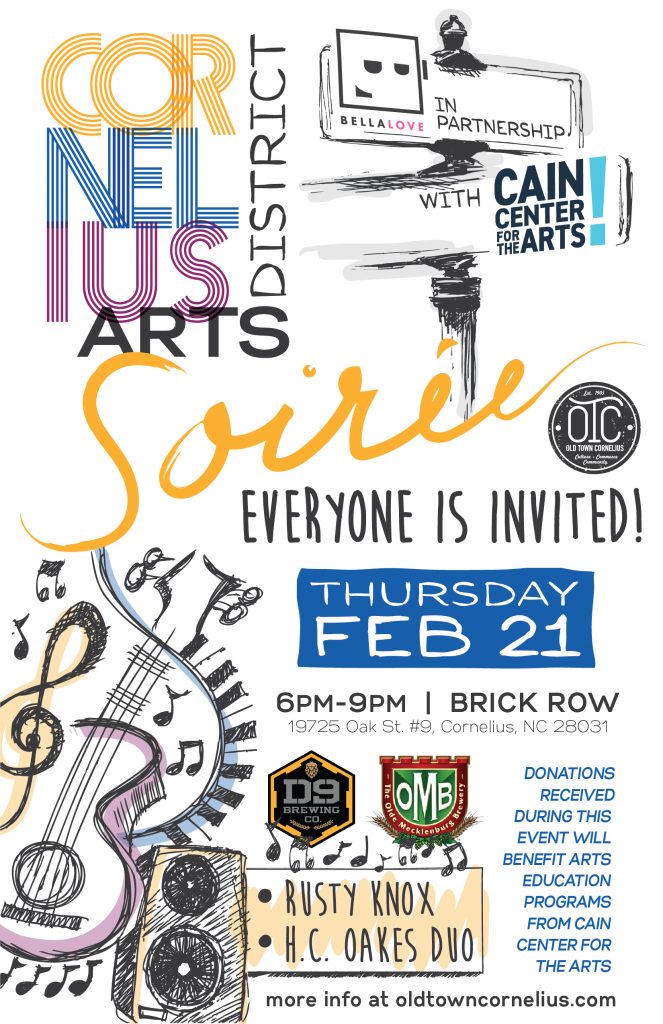 About Cain Center for the Arts: Established as a 501(c)3 in 2017, Cain Center for the Arts will be a home for creativity, learning, entertainment and enjoyment in the Lake Norman region The new arts center will also be a place to hold community, private or civic events and will serve as a force for creative momentum within the Lake Norman area and beyond. A $4 million bond project for redevelopment projects in the emerging  arts district in historic downtown Cornelius, combined with a foundational gift of $5 million from the Cain family, has put the Center well on its way to a $25 million goal toward the center's construction.