One Paper Crane front man, singer/songwriter Rob Bocchino, firmly believes that if you create a vision of something you want in your life, and put positivity into the universe, you will realize that goal. He founded his consulting business with that philosophy, and it was that way of thinking that brought him and his wife, Kathy, to North Carolina and ultimately led him to dial back his consulting work to focus on his deep love of music and performing. Now a local favorite, his acoustic musical collective One Paper Crane aims to be an inspirational, creative force in the community.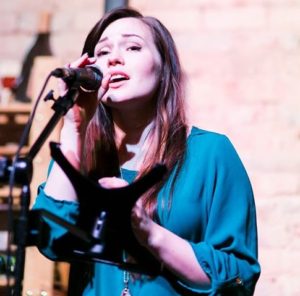 "Every person in the band has the same 'burning yes," Bocchino said, referring to their passion, "and that is to make the best music we can."
At its core, the band is a duo, with two singers (Bocchino and Caitlyn Balkcum) and guitar. But the band can take many forms, with any of a handful of other members joining to play – [[with singer Angie Zinn,]] Grant Way on percussion, Damon Wood on keys, and Mike Gudbaur on bass among them.
And the repertoire is as varied and unpredictable as the cohort, covering everything from Adele to Amy Winehouse to Marvin Gaye, all with unique interpretations and innovative arrangements characteristic of the collective's work.
"We like to play songs people recognize, but bring something new to them that they've never heard before," Bocchino said.
To be selected by the band, a song must meet certain criteria.
"There has to be something about the song that we thing has artistic merit – something that deserves to be explored," Bocchino said. For example, the chorus to Katy Perry's "Dark Horse" presents the opportunity to sing harmony with a really diminished scale, which he loves.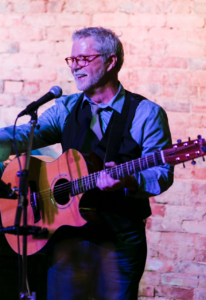 But perhaps what is most unique about One Paper Crane is not its makeup or its song list, but the chemistry among its members, all of whom are drawn to perform out of love for the craft and joy in the creative process.
"We're a community of people who love our instruments and playing great music, and also love each other – egos don't get in the way, like they do with a lot of other musicians," Bocchino said.
That chemistry is contagious, and one of the big reasons One Paper Crane's calendar remains full, with performances in venues from Charlotte to Banner Elk, out to Wilmington, N.C. and even Nashville once a year. Band manager Pat Elston shares a love and commitment to the music and works to see that it gets heard by as many people as possible.
The band is a regular at Old Town Public House on Catawba Avenue, and has a strong cadre of Cornelius fans.
"One Paper Crane is the perfect compliment to the ambiance of our pub," owner Case Warnemunde said. "Their polished sound, tasteful song selection and strong harmonies resonate with our patrons and have quickly made them a crowd favorite here in town. Each time they perform, we have multiple people ask when they're coming back."
In the coming months, OTPH patrons will get a special first-listen at One Paper Crane's newest body of work: original songs. Bocchino said they will likely debut some of them at the pub in early 2017.
The pub house is a good fit for the band, he said, and they enjoy performing there. He also likes that Warnemunde has made live music a key part of the pub's scene. In November, OTPH increased its live music offerings to five nights a week – the only venue in the area to offer that much live music. It's one more way that the Bella Love arts promotion organization is working to make Cornelius a thriving arts and culture hub
"When people are trying to move things to the next level artistically, we do everything we can to support that," Bocchino said. "We know this is a gem here in Cornelius – you don't know what you're going to get, but you know it's going to be good."
More Info
One Paper Crane will play at Old Town Public House, 21314 Catawba Avenue, Saturday evening starting at 8:30pm.
One Paper Crane is also scheduled to play at the 2nd Annual Christmas in Cornelius Festival Saturday Dec 11.
We asked Rob Bocchino to finish the following sentences:

I sing/play because…
I can't not. It's the most engaging, interesting, rewarding challenge that I've ever found.

When I sing/play I feel…
Connected. Connected to the others on stage and to the people watching us.

When I sing/play I want others to feel…
Delighted. And surprised.